Sports
'WHOLESOME EXPERIENCE': Marcus Semien has fond memories of Blue Jays
"The things I learned here I'm going to carry with me the next seven years."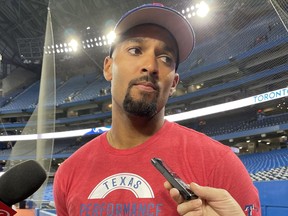 Article content
One season as a Blue Jay and less than two months in Toronto left a strong impression on Marcus Semien.
And the feeling is mutual among the young players he left behind.
In town to open a 2022 season that has so much expectation for his former team, Semien is with the Texas Rangers now but says he took a lot from his career season statistically with the Jays.
"It was a very wholesome experience to come here and play in front of fans who care so much," Semien said prior to a Rangers workout at the spiffed-up Rogers Centre where the Jays will begin their season Friday. "Of course, we had the most talented team in the major leagues and we played some really good games down the stretch.
"You see what the organization over there (the Jays) is doing to get better."
Article content
As brief as the stay was in Toronto, everything came together to near perfection for the 31-year-old. Playing in all 162 games, he led the majors in plate appearances with 724 and his 45 homers were not only a career-best but the most ever by a second baseman.
More importantly than that in the long term, he was a positive influence on young Jays players such as Bo Bichette, while those numbers helped Semien land a seven-year US$175-million deal with the Rangers.
"It meant a lot," Semien said of how his brief stint here helped him professionally. "I built a routine to keep my body healthy here. That's something Toronto does a really good job of — the strength and conditioning stuff, the training staff, the dietician … they do it right.
Article content
"The things I learned here I'm going to carry with me the next seven years."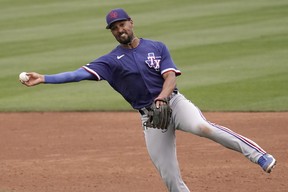 The departure of Semien, the Jays primary second baseman in 2021, was considered a major loss, although the California native said the Jays were in consideration as he tested free agency.
"We talked the entire off-season. It didn't pan out but that stuff happens," Semien said. "That's why they call it free agency. At the end of the day, my family and I are happy to be where we are.
"We miss our time here, of course in Toronto, but I'm looking forward to Texas."
A former teammate of new Jays arrival Matt Chapman, Semien says Toronto is getting a treat from the elite third baseman.
"They get a leader," Semien said. "Matt Chapman came up as a rookie in 2017 and became a leader immediately and you don't see that every day. His defence is all world, his power is through the roof. He's an MVP-type player. When you plug him into a team that's already a favourite, it's going to be a lot of fun for them."
Source link