Sports
Twins light up Jays for five home runs, end Toronto's winning streak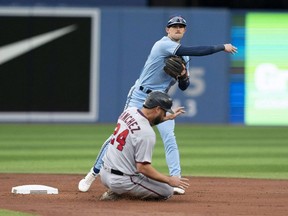 Article content
The Minnesota Twins slugged the Blue Jays' winning streak to the curb on Friday night.
Article content
The Twins hit five home runs, including three off Jays starter Yusei Kikuchi, bringing Toronto's season-high run of eight consecutive wins to an end.
Before a crowd of 27,753 at the Rogers Centre as the Jays and Twins kicked off Pride Weekend, Kyle Garlick and Jose Miranda each hit two home runs for Minnesota to drive the visitors to a 9-3 victory.
Article content
Despite fielding a decimated lineup — shortstop Carlos Correa has COVID and outfielder Max Kepler was among several Twins who could not make the trip to Canada because they are not vaccinated — Minnesota was able to put an end to its three-game losing streak.
The Jays, who lost for just the fourth time in their past 16 games, got nothing off a handful of Twins relievers, including Jovani Moran, Jharel Cotton (1-1), Tyler Duffey, Joe Smith and Griffin Jax.
Article content
After Vladimir Guerrero Jr. smacked his 11th home run of the season with two out in the third inning, the Jays didn't manage another hit and finished with just four on the night. The Guerrero shot was the only hit the Jays recorded after the first inning.
Miranda belted a two-run shot off reliever Trevor Richards with two out in the sixth to put Minnesota up by three runs.
The Twins got one run in the eighth off Andrew Vasquez and in the ninth, Byron Buxton hit a two-run shot off Jeremy Beasley.
Kikuchi (2-2) went 4 2/3 innings before giving way to Richards.
After allowing just four home runs in total in his previous nine starts, Kikuchi was lit up for three homers by the Twins.
After Kikuchi struck out leadoff batter Buxton to start the game, Jorge Polanco singled. Next up was Garlick, who deposited an 0-1 fastball to the seats in left field for an early 2-0 Minnesota lead.
Article content
The Jays erased the zero when they came up to bat in the first.
George Springer, back in the starting lineup and leading off after missing the previous two games with a non-COVID illness, homered to centre on a 1-0 pitch off Twins starter Chi Chi Gonzalez, who was making his first start of 2022.
It was the 49th leadoff homer of Springer's career, moving him past Ian Kinsler and into fourth place in major-league history. Ahead of Springer are Rickey Henderson, who holds the record with 81, Alfonso Soriano with 54 and Craig Biggio with 53.
The Jays tied the game when Teoscar Hernandez singled to score Bo Bichette, who doubled immediately after Springer's homer.
Miranda restored a Twins lead when he led off the second with a solo shot off Kikuchi. It became 4-2 when Garlick connected for his second shot off Kikuchi with two out in the third.
Article content
Jays third baseman Matt Chapman, who was hit on the left shoulder by a pitch on Thursday, was given the day off.
SPRINGER IN HIS STEP
Springer wasn't an option for manager Charlie Montoyo on Thursday despite his presence around the team, but was able to get back at it on Friday.
"I feel good," Springer told the Toronto Sun following batting practice. "I had a little bug, not fun, but I'm all right."
As tough as it was for Springer to watch for a couple of games and not be part of the last two wins against the Chicago White Sox, he had some perspective on the Jays' winning streak. 
"You're starting to see the process of the season unwind a little bit, you're starting to see guys settle in and get a little bit more acclimated to what's been going on, getting pitched a little bit differently," Springer said. "You're starting to see who we are as a team a little bit, but there's still a long way to go.
Article content
"There's no quit. There's a lot of fight, there's a lot of belief, whether we're up, down, it doesn't matter. I think the at-bats have been unbelievable with guys in scoring position. We're getting guys over. We're starting to do the small things that we expected to do."
RYU OUT MULTIPLE WEEKS
Pitcher Hyun Jin Ryu will miss multiple weeks, the Jays said, after an MRI on his left arm revealed a forearm strain and elbow inflammation. The Jays will seek second opinions on Ryu before further decisions are made regarding his future. 
Ryu, who missed a month with a similar injury before returning on May 14, had been placed on the 15-day injured list on Thursday.
On Wednesday, Ryu pitched four innings against the White Sox before departing because of forearm issues.
"We have a process, we have trainers and doctors and everybody says he's OK to go," said Montoyo, looking back at the decision to give Ryu the ball on Wednesday. "He agreed, everything was good and he still pitched well. You have to give him a lot of credit for trying."
Righthander Ross Stripling will take Ryu's spot in the rotation.
Lefty Tim Mayza, meanwhile, threw 21 pitches in a bullpen session on Friday as he continues his way back from forearm inflammation.