Sports
TRAIKOS: Who would have guessed Zach Hyman would have more goals than Connor McDavid?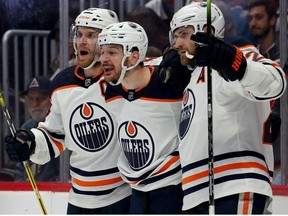 Article content
In the playoffs, you generally need your best players to be their best if you're going to have success. But if you hope to go all the way and win a Stanley Cup, then you also need your lesser lights to grab the spotlight from time to time.
Article content
The unheralded hero can take many different forms. 
Sometimes it's a young player who is finally realizing his potential or a depth forward making the most of limited ice time. Either way, these playoffs have seen their share of star-making performances from the unlikeliest of sources.
Here are eight of them:
Article content
Filip Chytil, NY Rangers
The veteran of the "Kid Line" — he's 22 and is the third-longest tenured player on the team — Chytil has scored seven goals in 15 playoff games. That's one less than he scored all season. Even more impressive is that three of them have been game winners, like the one he scored in Game 1 of the Eastern Conference final. His linemates, 2020 No. 1 overall pick Alexis Lafreniere and 2019 No. 2 overall pick Kaapo Kakko, have combined for three goals and 13 points. "He's grown up to be a man," Rangers head coach Gerard Gallant said of Chytil, who according to BetOnline.ag, has 125-to-1 odds of winning the Conn Smythe Trophy as playoff MVP.
Article content
Zach Hyman, Edmonton
As a no-frills type of forward, you would think that Hyman's game was tailor-made for the playoffs. And yet, he had never scored more than a goal in each of his previous five playoffs with the Maple Leafs. That's changed this year. Heading into Game 2 of the Western Conference final, Hyman was riding a six-game scoring streak, with nine goals and 13 points in 13 playoff games. Only Evander Kane has scored more for Edmonton.
Ross Colton, Tampa Bay
We don't talk nearly enough about Tampa Bay's success in the draft. Yes, they selected Steven Stamkos and Victor Hedman with the No. 1 and No. 2 overall picks, respectively. But they also found Nikita Kucherov late in the second round, Brayden Point in the third round and Ondrej Palat at the end of the seventh round. Colton, who was the 118th pick in 2016, is another late-round gem. After breaking out with 22 goals this year, the third-line centre has a team-leading five goals — two are game-winners — in 12 games.
Article content
Devon Toews, Colorado
We've known how good Cale Makar is. But this year's playoffs has shone a light on his defence partner, who has likely earned himself a spot on Team Canada's roster whenever the next World Cup of Hockey is held. In fact, Toews has as many goals (4) as Makar and only three fewer points (8), while logging nearly 26 minutes in ice time. No wonder head coach Jared Bednar called the 26-year-old defenceman "the whole package."
Andrew Copp, NY Rangers
At a trade deadline that saw Claude Giroux, Marc-Andre Fleury and several other high-profile players switch teams, it would be easy to overlook New York's acquisition of Copp from Winnipeg. But more and more, it's looking like the most impactful of the deadline deals. Since joining the Rangers, Copp has 14 goals and 33 points in 31 games, with six goals and 13 points in 15 playoff games. Not bad for someone who cost New York a pair of second-round picks.
Article content
Evan Bouchard, Edmonton
The last of Peter Chiarelli's draft picks is turning out to be a huge hit. After breaking out with 12 goals and 43 points this season, the 22-year-old is continuing to lead Oilers defencemen in the playoffs with three goals and nine points in 13 playoff games. A lot of his development is owed to playing alongside three-time Cup winner Duncan Keith. But with 2019 first-rounder Philip Broberg also waiting in the wings, suddenly Edmonton's defence doesn't look so bad anymore.
Ondrej Palat, Tampa Bay
The 31-year-old is often the overlooked forward on Tampa Bay's star-studded offence. But in the past three playoffs, only Brayden Point (30 goals) and Nathan MacKinnon (26 goals) have combined for more goals than Palat (21 goals). Even more remarkable is that three of those goals came on the power play, putting Palat at the top of the leaderboard when it comes to even-strength goals. This year is no exception. Palat, whose plus-four rating is the best among Lightning players, is tied for the team lead with five goals and ranks fourth with nine points.
Article content
Valeri Nichushkin, Colorado
It's taken longer than anyone would have guessed, but the 27-year-old Nichushkin is finally showing why he was a top-10 pick in the 2013 draft. After scoring a career-best 25 goals this season, the 6-foot-4 power forward has chipped in with three goals and seven points in 11 playoff games. Of course, it helps that he's playing on the top line with Nathan MacKinnon and Gabriel Landeskog. But keep in mind that all of Nichushkin's points have come in even-strength situations, including his series-clinching winner against Nashville in Round One.