Sports
TRAIKOS: Where will Barry Trotz end up in the crazy game of musical coaching chairs?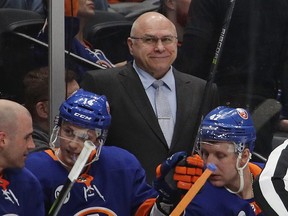 Article content
TAMPA, FLA. — The game of musical coaching chairs is almost coming to an end. 
Article content
The only question is where will Barry Trotz find a seat?
Will he return home to Winnipeg, go for another championship in Boston, or try and build something more long term in Detroit?
Whatever he chooses, the free agent coach better make a decision soon. The longer he waits, the fewer jobs are available. In fact, Trotz's options are a lot slimmer than they were a few weeks ago, when seemingly half the league had job openings.
Article content
This has been a summer of change — if not recycling — in the coaching world. In the past year, 15 coaches were fired, including three interim coaches who were let go after taking over from a coach who had been fired in the past 12 months. 
That number could be rising by the time you read this, with Chicago Blackhawks reportedly showing interest in replacing Derek King with Ryan Huska, who is one of Darryl Sutter's assistants in Calgary.
Article content
In other words, no one is safe. 
That includes Andrew Brunette, who earlier this month was named a finalist for the Jack Adams Award as coach of the year with the Florida Panthers. As well as Bruce Cassidy, who had led the Bruins to a sixth straight playoff appearance, and Trotz, who won five playoff rounds during his four years with the New York Islanders.
Still confused? Here's a look at who has ended up where:
Paul Maurice, Florida (replaces Andrew Brunette)
The Panthers finished as the top team in their division in each of the past two seasons. But after failing to get past the Lightning in the playoffs in each of those two years, the team parted ways with Jack Adams Award finalist Andrew Brunette in hopes that a more experienced coach can get them over the edge. Still, Maurice is a curious choice. Though he's coached 1,685 games in the NHL, he's never won a championship and was often criticized for not doing more with a Winnipeg team that many believed had the talent to win a Cup. Also, his reputation as a media darling probably won't matter much in Florida.
Article content
Peter DeBoer, Dallas (replaces Rick Bowness)
DeBoer, who was fired in Vegas after missing the playoffs with a roster that had the highest cap hit in the league, won't have the same set of expectations in Dallas. In fact, the Stars are a bit of an enigma. Two years ago, they went to the Stanley Cup final. But they followed it up by missing the playoffs in 2021 and then lost in the first round this year. With a roster that is in flux — defenceman John Klingberg is on the way out and leading scorer Joe Pavelski turns 38 next month — DeBoer could be arriving at the wrong time.
Bruce Cassidy, Vegas (replaces Peter DeBoer)
Why the Bruins decided to part ways with Cassidy is anyone's guess. One theory is that they are gearing up for a rebuild and didn't want Cassidy, who had led Boston to six straight playoff appearances, getting in the way of that by winning too many games. The Golden Knights, who missed the playoffs this year for the first time in franchise history, are in the opposite situation. After adding Jack Eichel to a star-studded roster that includes veterans Alex Pietrangelo, Max Pacioretty and Robin Lehner, they are in win-now mode. 
Article content
John Tortorella, Philadelphia (replaces Alain Vigneault)
Torts, as he is known, tends to do his best work with teams that are lacking in talent and need to grind their way to wins. In that regard, he's a perfect fit for a Flyers team that bid goodbye to longtime captain Claude Giroux and didn't have anyone who scored 25 goals or score 55 points this season. It's a similar scenario as to what Tortorella faced in Columbus, when he took a mostly no-name roster to four straight playoff appearances, winning two rounds in the process.
Lane Lambert, NY Islanders (replaces Barry Trotz)
Trotz's longtime assistant coach, who had traveled with him from Nashville to Washington to New York, definitely earned his promotion. But he will have his hands full. The last time he was a head coach was in minors in 2011. And along with Trotz, assistant coaches John Gruden and Jim Hiller are also gone. Maybe that will allow Lambert to reinvent the Islanders, who put a heavy emphasis on defence, into a more run-and-gun team that gets Mathew Barzal back to  being the point-per-game player he had been when he won the Calder Trophy under former head coach Doug Weight.