Sports
TRAIKOS: Matthews wonders what would have happened had Leafs beat Lightning; calls McDavid the MVP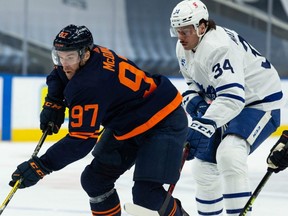 Article content
TAMPA — Auston Matthews, who scored a league-best 60 goals this season, took home both the Hart Trophy and Ted Lindsay Award on Tuesday night.
Article content
But considering the NHL Awards were held in the middle of the Stanley Cup final, he probably would have traded them both for a chance at a different piece of hardware that he has been hunting for some time now.
"I'd be lying if I said I didn't have a little bit of angst wishing I were still playing," said the Toronto Maple Leafs centre, "especially being back here. It is what it is."
Article content
Back here was Tampa, the site of Toronto's Game 6 loss to the Lightning in the first round of the playoffs, when the Leafs were leading 3-2 in their best-of-seven series and had a chance at eliminating the back-to-back champs. Instead, they lost that game and once again in Game 7. 
It was the sixth straight year where Toronto failed to get out of the opening round — a fact that was compounded by the fact that the Lightning went on to reach the Stanley Cup final. 
Article content
For Matthews and many of the Maple Leafs fans, it presented a what-if scenario that they unfortunately had some experience with.
Last year, the team lost in Game 7 to Stanley Cup runner-up Montreal in the first round. In 2019, they also lost in Game 7 to Cup runner-up Boston.
"I think it's pretty easy to think that," he said of how close the Leafs might have got had they beaten the Lightning. "That's been three times we've played the first-round team that's gone on to the final. There's nothing that we can do about it now."
That being said, Matthews said he has been watching the playoffs — though it might be for motivational reasons.
"I've been watching for six or seven years now and watching obviously this time of year," he said. "Everybody knows and understands and realizes how hard it is. You need a lot of things to go your way. We played a really good team in Tampa and there's a reason why they're back here for a third straight year in the Stanley Cup final. I think these are all just things we can learn from. I think life is a long journey of ups and downs and adversity and all that stuff … it definitely gets you motivated and hungry."
Article content
MATTHEWS SAYS McDAVID IS THE MVP
Despite landing on 119 of 195 first-place ballots for the Hart Trophy, Matthews heaped a ton of praise on Edmonton's Connor McDavid, who was the runner-up with 29 first-place votes.
"I think he definitely pushes me," he said of McDavid, a two-time Hart Trophy winner who led the league with 123 points. "I'd like to think I push him, but in the end he's been the cream of the crop as far as what he's been able to accomplish since he's been in the league. 
"Anytime that I have a vote for the Ted Lindsay I'm pretty sure I just write his name down every time no matter what, just because of the respect I have for him as a player and how good he is and how good he's been ever since he's been in the league."
With eight players finishing with 100 or more points, and four reaching the 50-goal mark, Matthews said it's a great time to be playing in the NHL.
Article content
"So many guys had such amazing years," said Matthews, who tied for sixth overall with 106 points. "I think it just speaks to how good the league is and how good the players are. I know from an offensive standpoint I'd rather see guys score goals and I'd rather games be 8-5, 8-6, whatever than a 1-0 or 2-1 match."
WAS MAKAR REALLY THE BEST?
Colorado's Cale Makar won the Norris Trophy. But according to voters, he wasn't technically the best defenceman. 
That honour went to Nashville's Roman Josi, who received 98 first-place ballots compared to 92 for Makar. It was only because more voters had Makar second on their ballots (98 to 76) that he managed to edge Josi with a points total of 1,631 to 1,606.
The ballot reflected just how close the defencemen had been all season.
Article content
Makar led all defencemen with 28 goals and ranked second with 86 points, while Josi led with 96 points and was second with 23 goals. If there was a category where Makar had the overwhelming edge, it was his plus-48 rating — and that he's also led the Avalanche to the Stanley Cup final, although votes were cast before the playoffs began.
"The boys, we've got some important things to do tomorrow," said Makar, whose Avalanche are up 2-1 against the Lightning. "But this one goes out to them, for sure."
RANGERS GOALIE WINS VEZINA
To no one's surprise, Igor Shesterkin of the New York Rangers was the unanimous winner of the Vezina Trophy as the league's top goaltender. 
The 26-year-old, who also was a finalist for the Hart Trophy, received 29 of 32 first-place votes, beating out Calgary's Jacob Markstrom and Nashville's Juuse Saros — neither of whom received a first-place vote. 
Article content
Shesterkin went 36-13-4 with a league-best 2.07 goals-against average and a .935 save percentage. He then led the Rangers to the Eastern Conference final, where they lost 4-2 to the Lightning.
"It's so difficult, because we have a very good team and we deserve to be in the final," said Shesterkin. "We were up 2-0 in the conference final. It was a really good experience for us."
SEIDER'S PARENTS SKIP AWARDS
Detroit's Moritz Seider beat out Anaheim's Trevor Zegras and Toronto's Michael Bunting for the Calder Trophy as the league's top rookie. A total of 15 rookies received at least one vote for the award, with Seider receiving 170 of 195 first-place votes, followed by Zegras (15) and Bunting (7).
Seider, who said he didn't have a speech prepared, joked that his parents weren't at the awards ceremony because they thought it was a better idea to go on vacation in Croatia.
twitter.com/Michael_Traikos