Sports
TRAIKOS: Ex-Sens forward Nick Paul 'showing all playoffs what he's made of' for Lightning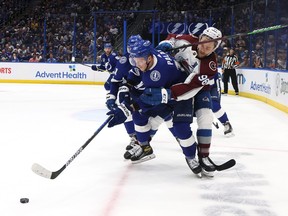 Article content
The war of attrition claimed a couple of more casualties the other night.
Article content
Tampa Bay's Brayden Point, who missed Game 3 of the Stanley Cup final with a recurrence of the lower-body injury that forced him to miss the previous two rounds, is doubtful to play in Game 4 on Wednesday. Meanwhile, the Lightning was still waiting to see what the doctor would say about Nikita Kucherov, who left the third period after getting crosscheck from behind into the boards.
Article content
As for Nick Paul, who also left the first period after getting shoved awkwardly into the boards — but then who returned and scored the game-winner in the second period, before leaving again, and then returning again — there was no update.
Nor was there any need for one.
"Just hit the funny bone, I guess," Paul said of his brief injury. "I was going back for sure."
Article content
And why wouldn't he?
While Point and Kucherov are under contract for next year and beyond, Paul is an unrestricted free agent after essentially betting on himself this season. There were reports that the Ottawa Senators had offered Paul a four-year extension in the neighbourhood of $2.6-million to remain in Ottawa. But he thought he was worth more and turned it down. So the Senators traded him at the deadline to Tampa Bay, where he's since been playing like someone who is going to get $4- to $5-million after the playoffs end.
"He's earned it," said Jon Cooper, referring to the goal that Paul scored on his first shift back in the second period of a 6-2 win against the Avalanche. "It was uplifting."
Indeed, Tampa Bay was nursing a 2-1 lead in the second period when Paul returned to the ice, looking worse for wear after taking a hit from Josh Manson and toe-picking into the boards. On his first shift back, he looked like he could barely skate. But he still managed to get his 6-foot-3, 214-pound frame into the slot and shot past Darcy Kuemper for his fifth goal of the playoffs, before promptly leaving for the dressing room for more repairs. 
Article content
"Guys are obviously banged up, especially this time of the year. But in true hockey-player fashion, he sucks it up and comes out and scores the eventual game winner," said Lightning captain Steven Stamkos. "You can see how valuable he is to our team, all the little things he does, he scored big goals already. He's had some great moments."
Indeed, with his thick black beard and penchant for scoring big-time goals, Paul has become one of those players that seems to have been born to play at this time of year. Need a goal? Paul's your man. Need someone to fill in on the second line? Paul can do it. A blocked shot, an energy-inducing shift, a face-off win? The Mississauga, Ont., native, who has five goals and nine points in 20 games, keeps answering the bell.
Article content
"He's been really effective for us," said linemate Alex Killorn. "I think when you look at some of the goals he scored — obviously those two goals against Toronto in Game 7 (were) so huge — and last night he has a huge goal after coming back from, you know, getting a little banged up."
"Was he hurt?" Victor Hedman said, smiling at the question. "He didn't miss a beat. Incredible player. He's showing all playoffs what he's made of, that this time of year, he seems to thrive."
The funny thing is, unlike the rest of his teammates, this is Paul's first Stanley Cup final. Prior to this year, the longtime Senator had never even appeared in the post-season. It was why he was excited — but also a bit nervous — about joining the two-time defending champs, who were expected to three-peat.
Article content
"It's definitely a thought that went through my head when I came here," said Paul, who was traded to Tampa Bay for Mathieu Joseph and a 2024 fourth-round pick. "It can be a petty dramatic thing, wondering where you're going to fit in. But the guys here have been absolutely amazing. 
"As soon as I got traded I got texts welcoming me to the team. I get there and they take me out for dinner, made me feel right at home … the coaches had open communication with me to kind of let me know where they see me on this team, and what kind of role I'll be playing, where the team has the most success and where I can help out the most. So I think it was a pretty good transition from all the players, the coaching staff and then just kind of fitting into my role right away."
Article content
Paul's role has so far been a versatile one. He's played up and down in the lineup, at centre and on both wings. He's killed penalties and chipped in on the power play, played a shutdown role and has been able to show off his skill. Part of that willingness to do whatever-it-takes comes from spending his first five years in the league as a perennial bubble player who made nearly a dozen trips to the minors before finding a regular job in the NHL. 
The other part is he's playing for a contract next year.
"I don't have to worry about anything else," said Paul. "When you've got the group we have in there, leaders all the way down, doing it right every single day, every single game, stepping up when someone needs to step up, it's easy just to follow suit."
If he keeps up it up, you can be sure that Paul will be earning a big fat cheque when all this is done. Who knows, he might also have a championship ring to go along with it.
twitter.com/Michael_Traikos