Sports
TRAIKOS: Dynasty? With a three-peat, Lightning could go down as one of the best teams ever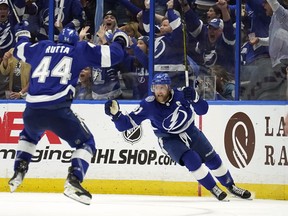 Article content
Next up, Denver.
Article content
It won't be the only 'D' word that we hear in the next couple of weeks.
Did someone say dynasty?
After the Tampa Bay Lightning advanced to its third straight Stanley Cup final, it's sure looking that way. This is a team that is built for the ages. It certainly is built to succeed in the salary cap era.
In some ways, that's even more impressive than the four straight championships that the 1980-83 New York Islanders or the 1976-79 Montreal Canadiens won at a time. After all, the league has never had this many teams, playoff rounds or been this competitive.
Article content
How is it that Tampa Bay has been this good for this long? How is it that the Bolts haven't had to rebuild or retool even taken a year's rest after playing this much hockey, the way that Chicago (championships in 2010, 2013 and 2015), Los Angeles (2012 and 2014) and Pittsburgh (2016 and 2017) did? How do they keep winning? Over and over again?
Article content
The salary cap was supposed to discourage dynasties and encourage parity. Instead, Tampa Bay keeps finding loopholes, keeps plugging in new players and keeps adding to its legacy.
No wonder they have dubbed themselves the Tampa Bay Find-A-Ways.
In the past three years, the Lightning has won 11 straight playoff rounds and beaten nine different teams. During that span, it has a combined record of 44-17. And while the Bolts have made it look easy, it has been anything but.
The Lightning won a championship in a bubble where its captain played just one game. It won again in a condensed and shortened season where its most talented forward, Nikita Kucherov, missed the entire regular season. This year, it has won despite trailing the Maple Leafs three times in its best-of-seven series, despite losing Brayden Point in the final game of the first round, and despite trailing the New York Rangers 2-0 in games in the Eastern Conference final.
Article content
"It's going to be tough to get out of the moment and look back and realize what a special group we have here because there are still some games to be played and we're still not at the end of our goal," captain Steven Stamkos told reporters. "But in saying that, this group is pretty amazing, pretty special."
Special is one way to describe what it would mean if Tampa Bay can complete the three-peat. But before we get ahead of ourselves, the Lightning still has one more round to win. And considering the opponent, it's looking like it will be the most difficult.
"Certainly, the toughest test that we're going to face," Stamkos said of the Avalanche. "They're arguably the best team in the league. We're going to have our hands full."
Article content
Indeed, the Avalanche finished with the best record in the NHL this season. Since then, the Avs have lost just twice in these playoffs, having swept the Nashville Predators and Edmonton Oilers.
Led by Nathan MacKinnon, who has 11 goals in 14 games, and Norris Trophy favourite Cale Makar, with 22 points in 14 games, Colorado might be the only team in the league that can match Tampa 's star power up and down the roster. The Avs lead the playoffs in scoring (4.64 goals per game), have the second-best power play (31.1% success rate) and is third in goals-against average (2.86 per game).
And, they are rested, having completed their Western Conference final last Monday.
It doesn't sound like the time off will matter when it comes to Nazem Kadri, who underwent surgery on his thumb for an incident that occurred in Game 3 of the Western final and is doubtful for the rest of the playoffs.
Article content
But it should benefit goaltender Darcy Kuemper, who hasn't played since suffering an upper-body injury in Game 1. The only question is whether Kuemper will take back his net or whether Colorado will ride Pavel Francouz's hot hand after he allowed 10 goals in four games against the Oilers.
With the way that defending Conn Smythe Trophy winner Andrei Vasilevskiy has been playing for Tampa Bay — he has a .929 save percentage — the Avalanche might need both goalies to get the job done.
Another question mark involves Point's status. For days, we've been told that Tampa Bay's centre — whom Rangers coach Gerard Gallant called "arguably their best all-around player," — is getting closer and closer to returning from a lower-body injury suffered nearly a month ago. According to Lightning head coach Jon Cooper, Point remains questionable for Game 1, but "extremely probable" to appear in the series.
Maybe they are just waiting for when they really need him. It's yet another reason why Tampa Bay's run has been so impressive.
And the scary part is that regardless of what happens in the final, we may not have seen the last of the Lightning. With only four pending UFAs — forwards Ondrej Palat, Nick Paul, Riley Nash and defenceman Jan Ruuta — don't be surprised if they are back here again next year.
And the year after.
twitter.com/Michael_Traikos