Sports
TRAIKOS: Colorado's controversial OT goal was much ado about nothing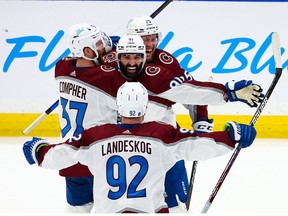 Article content
TAMPA, FLA. — Much ado about nothing.
Article content
One day later, that was the reaction from Colorado Avalanche head coach Jared Bednar in response to Nazem Kadri's Game 4 overtime winner that appeared to be scored with too many men on the ice.
It was a play that Tampa Bay Lightning head coach Jon Cooper called "heartbreaking" and assistant coach Derek Lalonde said was "a pretty bad look" for the league. But Bednar, who was obviously biased in his opinion, didn't see anything wrong with it.
Article content
"I saw it," he said before hopping on a plane back to Denver for Game 5, where the Avalanche, who are ahead 3-1 in the best-of-seven series, have a chance at winning the Stanley Cup. "I thought it was nothing, honestly. I thought that happens every second shift in the entire game.
"That's part of the game. It's a fluid game. You're changing on the fly, everything happens. You look at that clip, you back that clip up — and I did multiple times already to see what exactly what they were talking about — and Tampa's got two guys jumping on with their D coming off the ice from a zone away. I count 7-6 at one point. So that is what it is. That's the way the game is played. I don't see it as a break or a non-break. I actually see it as nothing."
Article content
Bednar is correct. This is not basketball. A player does not have to wait until a whistle — much less for a player to step off the ice — before stepping on the ice. There's leniency given. As the NHL operations said in a statement, it "is a judgement call that can be made by all four on-ice officials." 
And it's one that is not reviewable, though it was looked at. But maybe not at the level of some fans, who analyzed the footage as though it were the Zapruder film.
"Following the game, Hockey Operations met with the four officials as is their normal protocol," said the league. "In discussing the winning goal, each of the four officials advised that they did not see a too many men on the ice situation on the play."
Even Cooper, whose Lightning had benefitted from a too-many-men goal in last year's conference final against the New York Islanders, admitted, "it's not an exact science" — something that Tampa Bay defenceman echoed.
Article content
"In a course of a hockey game, I would say 99% of the time the guy going onto the ice jumps first," said Cooper. "That's why they have that little kind of safe zone because there's only two doors and guys hop over so that happens all the time. The reason there's a rule is that if you gain a significant advantage there's a penalty. That happens all the time … but the purpose of the rule is not taking advantage."
"It probably happens more times than we think," said Lightning defenceman Ryan McDonagh. "Obviously it's heightened there with the result and the outcome, and you ask players, we're looking for every inch to get an advantage and try and jump in the play when you know your change is coming."
The question is whether the Avalanche took advantage of that so-called "safe zone", and — more importantly — if Kadri would have still scored had he not jumped the gun by as much as five seconds.
Article content
"I found it odd that they got that wide open on the play," said Cooper.
That being said, Cooper hinted that the better team had won. Whether it was with five, six or seven skaters on the ice, the Avalanche were the ones who had been creating far more chances in overtime than the Lightning. 
In a sense, they had also created their good fortune.
"Did they get the better of us in overtime? There's no question they did," said Cooper. "But this is a game of breaks. And oftentimes you make them and some times you get them. And Colorado is up 3-1 in this series because they made a lot of breaks. You look at their goals last night and neither one of them touched a stick and went into the net … (Nathan) MacKinnon didn't know where it was, went off a skate and rolled in. The second one is going six feet wide and hits (Andrew) Cogliano's knee. But they made their breaks. Like, good on them. 
Article content
"And that's what happens when you make them. And the game winner is an unfortunate non-call. That's how you get breaks … the teams I've had, when we've won championships, you get those. But what comes around goes around."
That the referees chose not to call a penalty shouldn't have been a surprise. By the end of the tied game, they had basically swallowed their whistles rather than affect the outcome. Then again, by not making a call they essentially played a part in who won.
"I thought they called it fine," said Bednar. "I'm sure each coach can go through it and say, 'That's a penalty, that's a penalty.' But that's the way it goes. They're letting us play. (Logan O'Connor) breaks in all alone on (Victor) Hedman in overtime and he gets a stick in on his hands. It is what it is, man. You've got to fight through it. 
"It's playoff hockey. The Stanley Cup finals. You're expected as players to fight through a certain amount of stuff, because it's the most competitive time of the year. The refs aren't going to call the ticky-tack stuff that puts teams down and gives them the other team an advantage. They're going to let the players settle the game. That's the way it should be."