Sports
Toronto FC stamp on CF Montreal to advance to 2022 Canadian Championship final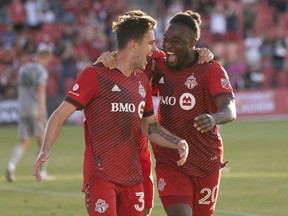 Article content
Toronto FC ran roughshod over CF Montreal on Wednesday night with a 4-0 victory at BMO Field in Canadian Championship semifinal action.
Article content
Brampton native Ayo Akinola scored two goals for the Reds, while Jesus Jimenez and Alejandro Pozuelo added singles.
Despite mounting numerous scoring chances, Montreal could not buy a goal. Goalkeeper Quentin Westberg recorded the clean sheet, the first shutout by TFC since last Sept. 25, a 0-0 draw at Colorado Rapids.
Article content
Westberg made a point-blank save in the 85th minute on Ahmed Hamdi to preserve the clean sheet.
Akinola, who just missed a couple of earlier chances, scored on a counter-attack in the 40th minute to put the home side ahead 1-0, scoring via a tap-in after a nice pass into the box from Luca Petrasso who received a perfect pass to the left side from Jimenez. Petrasso was awarded the assist.
Akinola's second goal, nine minutes into the second half, was spectacular. Picking up a pass on a rush just outside the middle of the box from Pozuelo, Akinola stepped to his right to avoid a pair of Montreal defenders and right-footed a blast just under the cross bar in the right corner. The 22-year-old Akinola, who just recently returned from knee surgery in July of last year, has three goals this season in all competitions.
Article content
Jimenez left-footed the ball into the goal in the 75th after some poor clearing by Montreal defenders after a Toronto corner kick. He now has eight goals this season over all competitions this season – the most of any Reds players.
Pozuelo put the cherry on top of the cake for TFC in the 78th minute when he right-footed a shot from very close in, assisted by Jayden Nelson.
TFC now plays the winner of Vancouver/York United in CC final in July. The Reds have won a record eight Canadian Championships while Montreal has won five. The Reds have the rare chance to win two Voyageurs Cups in one year, having beaten CPL giants Forge FC in penalty kicks on June 4 to win the 2020 Canadian Championship which was postponed for two years because of the COVID-19 pandemic.
Montreal (7W 6L 2D) has enjoyed a better MLS season this year, sitting sit eight points above Toronto (4W 8L 3D) in the standings and had gone unbeaten in their last four head-to-head matchups with a record of 3-1-0 with the last one winning them the 2021 Voyageurs Cup.
Source link