Sports
Tate proves his mettle in return from elbow injury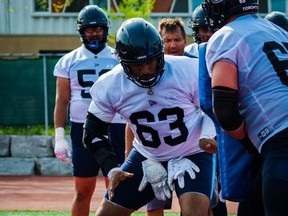 Article content
When he reflects on his journey from a debilitating elbow injury, Trevon Tate summons one sentence that aptly describes the experience.
Article content
"It's actually crazy to think I'm back now,'' he began Tuesday as the Argos wrapped up their daily practice routine, which this week involves a meeting against the host B.C. Lions this Saturday night.
Improbable, inspiring, uplifting, there are many ways to describe Tate's travails when he tore up his elbow during a win over visiting Hamilton late last season, a win that assured the Argos first place in the East and a bye into the divisional final.
Article content
It was a bittersweet moment for the offensive lineman.
Tate broke into the CFL with the Tabbies, who would release him.
When Tate hurt his elbow, he would miss the balance of the season and did most of his rehab from his home in Houston.
Tate can easily rhyme off the litany of muscles and tendons he tore around the elbow area.
Article content
All told, six were compromised.
He wears a brace as a means to provide some comfort.
"I can just go out there and play,'' he said.
There are no discernible scars around the elbow, at least compared to the snake-like scar that adorns the elbow of Jake Reinhart, who was hurt in a home game against Ottawa that sidelined the team's longest-tenured player for the season.
Reinhart wears a sleeve on his left elbow.
The brace on Tate's right elbow also reminds him of the path he took to get back on the field.
Admittedly, there was a stage of depression following the injury.
Once he came to terms with the challenges he had to overcome, Tate said he used the setback as added fuel to the fire that burned inside.
"There was so much I wanted to prove,'' he added. "I didn't think I was playing close to my standard. When I got into the weight room I trained harder. No matter the injury, I wanted to come back better than ever."
Article content
Tate played his collegiate football in Florida.
His CFL journey began in 2019 with Hamilton.
He was with the club in 2021, but then released and scooped up by the Argos.
All things considered, the Argos offensive line held up against the Als
Adversity struck when starting right tackle Dejon Allen was ejected following an altercation with Montreal linebacker Tre Watson.
Allen would later apologize to his team.
In his absence, the Argos used Shane Richards, who was hurt during most of training camp.
With Isiah Cage unlikely to play in B.C., the Argos will probably have Tate and Allen line up as starters at the tackle slots.
To hear Tate tell it, when Richards entered the Als game he looked Richards in the eye and uttered a few words.
Article content
"It's time,'' said Tate. "Shane handled it well."
Cage did some individual work at Tuesday's gathering, but did not practise.
He missed the entire 2021 season following an ankle injury he suffered in camp.
He began the 2022 season on the one-game injured list after Cage got dinged in Toronto's pre-season finale against Hamilton.
The Argos are playing a Leos team coming off a bye week.
B.C. began the year by pasting visiting Edmonton.
"The challenge this week is to not get comfortable,'' said Tate. "The mindset is for each us to win our one-on-one block."
ONE TO REMEMBER
The first game as an Argo for defensive back DaShaun Amos won't soon be forgotten.
There were more family members in attendance last week than there were during his time in Calgary, which is understandable given basic geography.
Article content
The Amos family lives in Virginia, where hopping on a flight was mandatory when heading to Alberta.
The family arranged for a bus that took them from Richmond to Toronto.
Among those in attendance were Amos' brother, D'Angelo Amos, who was one of the training camp cuts with the Argos.
First game with new a team and new teammates and Amos felt at home, a transition made easier knowing family was sitting in the stands.
"It was one of those exciting memories you put in the books,'' said Amos. "It was a great time, a great win."
Amos had no expectations but said it was good for the defensive unit to finally play together.
One of Amos' biggest supporters is defensive backs coach Joshua Bell, who went from playing in the back end to overseeing the unit in Calgary.
Article content
According to Amos, Bell was able to provide a coaching perspective as well as give insights as a player.
Under Bell's tutelage, Amos developed into a starter and then an all-star.
TOUGH CRITIC
First-year Aussie punter John Haggerty pulled no punches when asked to assess his play in Toronto's season opener.
"Horrible,'' he began of his CFL debut. "I struggled with the coffins (kicks) last week. It's different than college.
"In college, I was used to hitting Aussie (football) ends over ends and everyone fair catches them at the five or 10 (yard line). There's no return and then we play Hamilton in the pre-season and I hit the same ball and they take it to the house.
"I was a bit nervous in hitting them again. We worked all week in trying to angle them out of bounds. I hit good balls, but I just wasn't getting the right bounce. They were checking back into the end zone, which killed us. It's unfortunate, but that's football."
At Tuesday's practice, Haggerty was booming punts that bounced out of bounds inside the five yard line.
Overall, the experience at BMO Field was exhilarating.
"It was fun, great atmosphere, great fans and we played on grass, which was a change for me because I haven't kicked on grass in a long, long time."
Source link