Sports
Springer's road map for Blue Jays success: Ride the highs and learn from the lows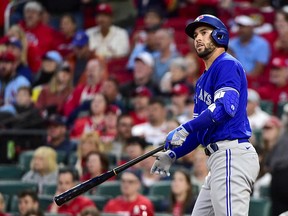 Article content
DETROIT ­— It was Game 59 on the schedule when the Blue Jays met the Tigers on a beauty of a Sunday afternoon at Comerica Park, still 103 dates away from the regular-season finish line.
Article content
But the way George Springer approaches it, there's always something to be learned that will make the team better and mentally tougher for the days and nights when the games have deeper meaning.
You can get bogged down with the mental and physical challenges of the longest season in pro sports, or you can treat every day as a learning and growth opportunity.
Article content
"Everything is a process and every situation you're going to go through multiple times a year," Springer said during an interview in the Jays dugout here at the splendid downtown Motown ballpark. "It presents itself in a different place and a different time.
"One day, it could be the fifth inning, the next day it is the eighth. You never know when a situation is going to pop up. So, understanding how to navigate it and recognize it and see that this is what's happening is pretty much huge for this team."
Article content
For reasons obvious and otherwise, Springer has emerged as a leader of this upwardly minded Jays team. His proven talent is part of the package, as is his post-season pedigree, which will be invaluable if the team gets to its planned destination four months down the long and winding baseball road.
And Springer's voice is a prominent one in the Jays clubhouse. So ,whether it be offering counsel on riding out a tepid streak at the plate, powering through the dog days or refining approach for those at-bats, the veteran's influence is felt.
"It's a feeling, it's an expectation," Springer said of what he tries to impress upon his teammates. "It's an understanding of a lot of different things.
"At the same time, everybody in that clubhouse understands what it is that's at stake and what the ultimate goal is. It's work hard every day and play hard to the best of your ability and hopefully, at the end of the day, we'll be where we expect to be."
Article content
All that said, Springer says there is plenty of room for growth and refinement as the season moves along. As much as there is a "settling in" after 60 games, he says, a team's identity isn't quite etched on the diamond.
"I don't think you really figure yourself out until the all-star break," Springer said. "I think every season is different. (Astros great) Jeff Bagwell used to say to me all the time: 'Every month is different, every year is different.'
"His point was there are going to be months when you hit .300 and there are going to be months when you don't. Obviously, with 100-plus to go, you're past the point where you're now seeing guys settle in a little bit more and start to get into a routine, a habit. You're starting to recognize certain things. That 60-game mark is kind of when things start to get going for a lot of guys."
Article content
Of course, a full season of Springer could be a huge part of the Jays making the remainder of the season as productive as first hoped. Getting just 78 out of the Connecticut native in his first year here in 2021 was far from the full-on Springer experience.
When the Jays signed him to the club record six-year, $150-million US contract in January of last year, it was as much for what he could bring in September or October as May and June.
But general manager Ross Atkins has always appreciated the leadership component the 32-year-old brings, a quality in evidence when he was World Series MVP for the Astros in their 2017 title run.
Just as he was in Houston, Springer has been the ideal leadoff man for these Jays, entering Sunday's game riding a 21-game on-base streak, the longest active mark in the majors.
Article content
His 106 total bases while batting first are most in the AL, often setting the table for those behind him in manager Charlie Montoyo's batting order.
As for the in-season growth, Springer likes what he's seen over the past couple of weeks, in particular regarding his team's approach at the plate.
"I think the at-bats have been great," Springer said. "Guys are starting to slow things down a little bit, starting to understand how they are being pitched and developing a plan and staying with it.
"When everyone is having good at-bats, it spirals on to the next guy. I want to pass the baton on to Bo (Bichette) and him on to Vladdy and on down.
"When everyone is doing what they know how to do, it's contagious for sure."
High on the list of lessons gleaned, Springer believes, is the grind-it-out record in one-run games. So far in 2022, the Jays are 15-7 in one-run affairs after going 15-15 last season.
"Obviously, we've played a ton of one-run games and that's fine," Springer said. "In the playoffs, it's all about staying in the moment and recognizing and understanding that you've been there before.
"You know what it is. You know what it looks like. You know how to control your heartbeat a little better. This team understanding the situations and understanding the preparation will be huge."
So too will the influence of Springer, as keeping things loose for his young teammates and guiding them through the testier times will be a significant part of that process.
Source link