Sports
SIMMONS: Finally – after all these years – Dick Thornton is a Hall of Famer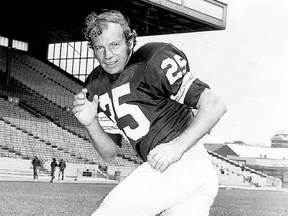 Article content
There are no football players like Dick Thornton anymore.
Article content
The sport doesn't really want them or allow them. And that's a shame, especially in a Canadian Football League that needs character and characters to sell – and nobody sold the game or himself better than Tricky Dicky Thornton.
Over time, like a lot of sports, football has become too specific, too specialized, too controlled, too much about offensive and defensive coordinators, and not enough about those who actually play the game.
The best thing you could say about Thornton: He was a football player. The position? It depended on the day, the game, the circumstance. He played so many of them.
Article content
When the Argos or the Winnipeg Blue Bombers before that, needed someone to play defensive back, he played defensive back. Good enough to be an all-star five of his 10 CFL seasons at a time when only three DBs made the all-star team. Good enough to have scored the most defensive touchdowns in CFL history by the time he walked away in 1972.
Article content
Thornton did just about everything with the Argos and Bombers. He picked off passes, 42 in all, he scored nine defensive touchdowns, and that by itself was good enough to get him into the Canadian Football Hall of Fame. The eight interception returns for scores was a number not equaled for the next 38 seasons.
I don't know why it took 50 years after his retirement for Thornton to finally get elected to the Canadian Hall of Fame, which was announced on Tuesday. Many of us have been screaming about this injustice for years. It feels so right now, finally, for Thornton to be recognized and yet it feels just a touch wrong today as well. This should have happened years ago, when he was still alive, when he was still Tricky Dicky, before cancer got him. He passed away at the age of 75 in 2014.
Article content
It still took eight more years for his election.
It should have been a slam dunk from the beginning, especially considering who Thornton was, how he played, and how much he contributed to Canadian football.
When the Argos or the Bombers needed someone to intercept the ball, he intercepted. Thornton made the giant interception in the famous 1971 Grey Cup. He could have scored the game-winning touchdown on the play, except in his own words he told me years later, "I cut the wrong way."
The Calgary quarterback, Jerry Keeling, was a defensive back in his early CFL seasons. Unlike most quarterbacks, he actually knew how to tackle. Instead of cutting away from Keeling, Thornton cut towards him. He was brought down inside the 10-yard line.
Article content
A few seconds later: the infamous Leon McQuay fumble that old Argo fans still grouse about. One of the poignant moments in Argo history.
But typical of Thornton, it was his apparent game-changing play in rainy Vancouver that should have won the Argos their first Grey Cup in years. That play, really, was prototypical of his career.
When the Argos or Bombers needed an interception, Thornton came up with one. When their quarterback got hurt and couldn't play – teams didn't have three quarterbacks in those days – Thornton took snaps from behind the centre. Not once or twice. He threw 117 passes as a CFL quarterback for 679 yards and four touchdowns.
He ran the ball for 585 yards in his career and six touchdowns.
He caught 23 passes for 338 yards in his career for three touchdowns.
Article content
He ran back punts and kickoffs when called upon. And who in professional football today – or any other day, frankly – can say they scored touchdowns or led to touchdowns by intercepting, by fumble return, by rushing the ball, catching the ball, throwing the ball?
That may happen in high school football or kids football if it happens at all. It doesn't happen in pro football: It did when Dick Thornton played.
And it wasn't just once over time: It was almost every year. He threw passes in nine of his 12 CFL seasons. He rushed the ball in nine of 12 as well. He caught passes in eight seasons, punted in nine, ran back kickoffs in seven seasons, intercepted every year, had fumble recoveries in six seasons, and punt returns in five.
Article content
And he did so much of that in Toronto, at a time when Argo football really mattered, when his name mattered when he was a celebrity of sorts.
"He seemed like a guy who would never die," the late Leo Cahill told me about Thornton upon his passing. "Guys like that don't die."
At least Thornton remains in memory now and forever in the Canadian Football Hall of Fame, where he has always belonged. Where he belongs now alongside the greats of his day like Angelo Mosca and Ron Lancaster and Marv Luster, all of them gone, none will be forgotten. His name right there among them.