Sports
'SCIENCE AND MEDICINE': Chris Evert weighs in on trans athlete debate
Article content
Chris Evert is the latest athlete to explain her stance on transgender athletes being allowed to compete in women's sports.
The former No. 1 tennis star recalled her matches against trans player Renee Richards back in the day, and they weren't easy.
Evert elaborated on a recent tweet about her previous track record against Richards, in which she wrote that she "struggled to beat Renee" when she was 43 and if Richards had been 25, "she would've wiped everyone off the court."
Article content
She said to the New York Post, "I competed against Renee Richards when she was 43 and was not in shape, as she admitted, and (struggled to beat her) — and I was ranked No. 1 in the world."
Article content
The two players faced off six times between 1978 and 1980 with the Evert winning every match.
"The wingspan. The size of the heart. The size of the lungs. The speed. The fast twitch muscles. The testosterone. There's just everything pointing to the fact that men are quicker, stronger, etc. than women — especially after puberty," Evert continued.
"For Renee Richards, who I really admire, to come out and say, 'Now, I think it would be wrong for me to compete' … she said, 'Because if I was 25, I would wipe everyone off the court.' Those are quotes that she said. This isn't me saying them."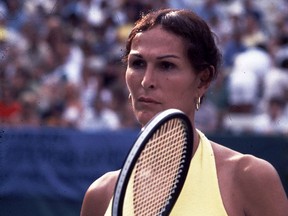 Richards told Sports Illustrated in 2019 she would have cleaned up at the All England Club if she competed in her prime.
"If I had played in my 20s, I would have won Wimbledon," she laughed. But if she had won in her 40s?
Source link