Sports
Saint John Sea Dogs turn to New Brunswick coaching legend at Memorial Cup
When the Saint John Saints were looking for a new direction after being eliminated from the first round of the QMJHL playoffs as host of the 2022 Memorial Cup, they turned to MacDougall for help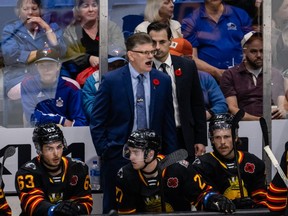 Article content
SAINT JOHN, N.B. — Gardiner MacDougall is an exceptional educator and hockey coach, and has risen to legendary status in this province with his work at the University of New Brunswick.
Article content
So, when the Saint John Sea Dogs were looking for a new voice after being eliminated in the first round of the QMJHL playoffs as host of the 2022 Memorial Cup, they turned to MacDougall for help.
The product of Bedeque, PEI, jumped at the opportunity to guide the Sea Dogs through the major junior national tournament before returning to his program at UNB. Saint John opened the four-team tournament Monday, with a 5-3 win against the OHL champion Hamilton Bulldogs.
Article content
"Hockey players are hockey players, they want to get better," MacDougall said prior to facing the Edmonton Oil Kings in their second game Wednesday. "They're competitive, they like challenges. So, even if you have a group of seven or eight-year-olds, they want to get better, they're enthusiastic and they want to be challenged to get better.
Article content
"It's been a quick transition, obviously, but they've been so receptive. To me, it's all about habits and you just modify some habits. There's one book of habits that says it takes 21 days to change, another book maybe 40 days, and another book maybe 65 days. I'm hoping 40 days or less is the book that's right. It was a good start for our guys."
The Sea Dogs had 38 days between games from the time they were eliminated on May 12 to the tournament opener. MacDougall, along with former NHL heavyweight Rocky Thompson were brought in to help the players prepare for the tournament without the benefit of a lengthy playoff run, which was the case with the other three teams at the event.
"You don't know really where it's going to go; it's no different than going to nationals in university hockey," MacDougall said. "In University, you know your team; you have seven or eight months with them and you have 100 practices and play 40 games, so you have a pretty good idea where they're at.
Article content
"Here, we had 20 practices and five scrimmages, so I saw them 25 times. We know we're getting better, but you're not sure how much better. You watch Hamilton on TV and they're an exceptional team, but we were fortunate. They played that Game 7 of the OHL finals in front of 11,000 people and it's a quick turnaround for them. They'll be a good club before this tournament is over."
MacDougall has been in charge of the men's hockey program at UNB for 22 seasons, winning seven national titles in the process. UNB, along with the University of Alberta in Edmonton are considered the two best university programs in the country.
MacDougall, 62, began his coaching career in the Saskatchewan Junior Hockey League with the Flin Flon Bombers. He then went over to the Manitoba Junior Hockey League before taking over the hockey program at UNB in 2000.
Article content
"When I came to UNB, I was the fourth coach in five years," MacDougall said. "They were all good coaches; the other four went to the NHL at one time or another, and we had a good team.
"To build a winning program, we have to have continuity with your coaching staff, your organization, your athletic director. So, we've been lucky to hang around and I have an outstanding staff. Rob Hennigar is my associate coach, who played four years for us and signed an NHL contract with the New York Islanders. He was the best player in the country when he left and he's been back eight years with me know and we're lucky we have full-time staff that helps us do what we want."
Hennigar is minding the store while MacDougall is away with the Sea Dogs. Saint John has a talented team, which was evident in its opening win against Hamilton.
Article content
Heading into the tournament, however, there was plenty of uncertainty about whether the Sea Dogs could contend with the three different league champions in the CHL.
It only took one game to demonstrate they belong.
"We haven't done anything yet and we all have a lot to prove," MacDougall said. "It was my first game as their coach and all our players have a lot to prove. It's a step, no question, but we're facing some really good teams.
"We go by that mantra that it's incremental, but we have to get a little bit better every day. We have to be the most improved team every night we play."
The long layoff allowed the Sea Dogs to get healthy and head into the tournament well-rested. They are also bolstered by a boisterous hometown crowd, who are packing the Harbour Station area, which seats over 6,600.
"We haven't played the intense number of games other teams have played, so we have to make that up with our energy and in our work ethic," MacDougall said. "We don't have the experience of playing in a sixth game or a seventh game in a playoff series. All we have is us, and we have to bring the energy and the work ethic and see where it takes us."
Email: [email protected]
On Twitter: @DerekVanDiest