Sports
LEBRON JAMES: 'King' fumed over NBA GM's support for Hong Kong protest
Article content
NBA star LeBron James flipped out over a tweet from former Houston Rockets general manager supporting Hong Kong protesters, a new ESPN report reveals.
Article content
The Lakers superstar sang in the chorus of condemnation of Daryl Morey's tweet that read: "Fight for Freedom. Stand with Hong Kong."
But according to ESPN, King James was more interested in standing with his own fat bank account after China freaked out about the tweet. And Morey's tweet arrived as the Lakers and Brooklyn Nets were set to play a pair of exhibition games in China.
When James learned his movie, Space Jam: A New Legacy, would not be released in China because of the brouhaha, he freaked and contacted other players. The tawdry NBA-China relationship brings in billions of dollars a year, ESPN reports.
James called Morey "misinformed."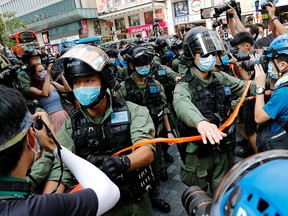 King James wrote: "I'm not here to judge how the league handled the situation. I just think that when you're misinformed or you're not educated about something – and I'm just talking about the tweet itself – you never know the ramifications that can happen."
Article content
He added: "We all see what that did, not only did for our league but for all of us in America, for people in China as well. Sometimes you have to think through the things that you say that may cause harm not only to yourself but to the majority of people. I think that's just a prime example of that."
NBA boss Adam Silver claims he regretted upsetting hoops fans in China — but stopped short of criticizing the tweet.
It wasn't just LeBron, ESPN reported. Nets owner Joe Tsai, who is heavily connected to the powers in Beijing, wanted Morey fired for the tweet. The Nets deny the claim.
Lebron's geopolitical musings were trashed as hypocritical on the streets of Hong Kong and 200 demonstrators burned his jersey while they carried signs that said: "Stand with HK; Stand with Morey."
"By criticizing Daryl Morey on Monday, LeBron James endorsed a world where calling out his government for wrongdoing is encouraged but China is above reproach," USA Today columnist Dan Wolken wrote at the time on Twitter. "It's the most shameful day of his career."