Sports
Kyle Lowry thumped Drake 1-on-1 in basketball: 'I BEAT HIS ASS'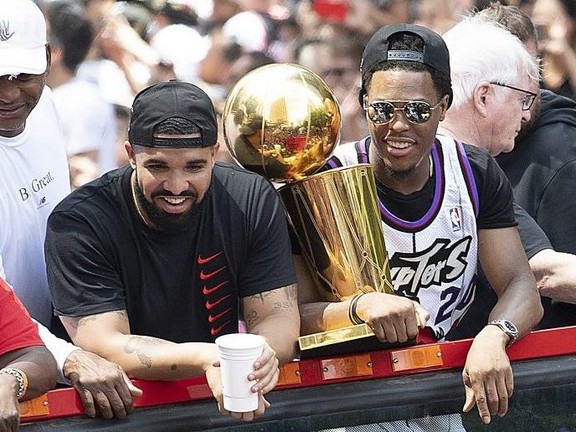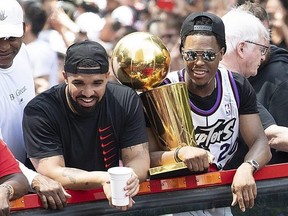 Article content
Kyle Lowry didn't hold back when he went 1-on-1 against Drake on the basketball court recently.
"I beat his ass," the former Toronto Raptors point guard said in an interview with Complex Canada. "He had no chance. Drake, don't try me again, boy."
Lowry spoke all things Toronto in a sitdown to promote his return to Scotiabank Arena where his current team the Miami Heat faced his longtime club Sunday night, where the Heat beat the Raps 114-109. But talk shifted to his friendship with the Grammy-winning rapper, who is also the Raptors' global ambassador, after a clip of the pair shooting hoops in South Florida started making the rounds.
"He does it every time," Lowry said. "Every time he's like, 'Let's play ones.' Alright, why? But as a competitor, you got to appreciate it. But yeah, he don't want that smoke."
Article content
But Lowry did admit that the Hotline Bling hitmaker's court skills have improved since their friendship began a decade ago.
"He's gotten better, though. I think he's worked on his jump shot a lot. From the time I first seen him to now, he's gotten a lot better. He somehow wins his SBL — his own league — somehow he wins that every time," Lowry said. "When I retire, I might have to go play a stint up there and make sure he don't win."
Lowry also shed some light on basketball nights at Drake's Toronto mansion.
"It's really funny," Lowry said. "It's really funny. They're really competitive and they really go at it and talk a lot of s— with each other. It's all his boys and it's funny, bro. It's one of the most entertaining things you can see. But it's competitive so you respect what they're trying to do."
Article content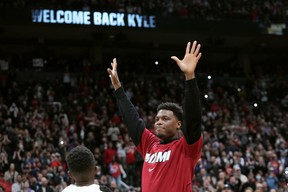 Asked for his favourite Drake memory, Lowry said many involved the rap star's courtside antics. "He's a nutcase," Lowry said. "He's gotten a lot of five-second calls, fist bumps, chest bumps. It's cool."
After Lowry announced he had inked a $30 million deal to join the Heat in the off season, Drake hailed the NBA champ as one of Toronto's all-time sporting greats.
"The city is yours eternally and we wish you the best in South Beach," Drizzy wrote in his Instagram Story. "We will continue to celebrate you."
Over the course of nine seasons, Lowry notched a number of records, leading the team in assists (4,277), steals (873), three-pointers (1,518) and triple-doubles (18). With 601 appearances, he's worn Raptors colours second most, trailing pal DeMar DeRozan (now with the Chicago Bulls), who leads the pack with 675.
Article content
Before touching down in Hogtown, Lowry penned a heartfelt letter to Raptors fans promising it will never be "a wrap between me and this city."
Elsewhere in his interview with Complex, Lowry, who said "Canada is home," name dropped some of the things he missed about the city (Sotto Sotto restaurant being one of them). But in the end, he couldn't pinpoint any one thing.
"Everything … the city, the mixed culture, the people … I miss the overall kindness of the city. The overall vibe of the city. You can go everywhere … and find different type of people, cultures," he said. "Nine years is not a small bit. That's a bit, you know what I mean? That's home."
But the one thing he doesn't miss is the commute to his former office at Scotiabank Arena.
"I don't miss the traffic," Lowry laughed.
Drake reunites with ex-Raptor Lowry at Canada's Walk of Fame

Drake pays tribute to Kyle Lowry: 'THE CITY IS YOURS ETERNALLY'

The great Kyle Lowry celebration ends in defeat for Raptors