Koloko might not appear to be Raptors-y but the fit is there
06/24/2022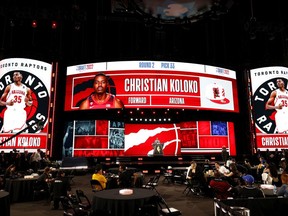 Article content
At first glance, Christian Koloko does not appear to fit the current mould of the Toronto Raptors.
Article content
At 7-foot-1, the Raptors 33rd overall selection in Thursday's draft, the lone selection the Raptors had, he is well north of the 6-foot-7 to 6-foot-9 range where most of the roster stands.
But everything about him, from his origin to his priority in the game is right in line with everything the Raptors are about these days.
Article content
The Raptors like versatility.
Koloko even at his size is able to switch on to the smallest players on the court and maintain the blanket-like defence Nick Nurse and his staff preach.
He's a defence-first guy, another attribute Nurse demands of most if not all his players.
And his background is so eerily similar to Pascal Siakam, it's almost impossible to envision a scenario where he's not immediately comfortable in his new surroundings.
Article content
Masai Ujiri and his scouting staff have already laid a strong groundwork for that going all the way back to 2017 when they first saw him at a Basketball Without Borders workout in Johannesburg, South Africa.
Being drafted into the NBA was a moment of a lifetime but being drafted into the league by the man who has done so much for the continent of Africa made it that much more special.
"It means a lot because what he's trying to do for basketball in Africa is huge," Koloko said. "You know, he sees the potential in African basketball, and he believes in African players and what he's doing I think is really amazing. It's really amazing. I think African basketball, they're getting a lot from him. And you know, just getting drafted by him means even more to me. It means he believes in me; he sees potential in me and I'm going to try to do everything to give it back to him."
Article content
Koloko was in Los Angeles with his family when the call came from Ujiri telling him that their five-year long relationship was about to become much more permanent set off a celebration for Koloko and his large family.
In the midst of that celebration came a call from Siakam, currently in Toronto working at the Raptors' OVO facility alongside OG Anunoby and Scottie Barnes.
That relationship is really just getting started.
"Honestly, I don't know him that much," Koloko admitted. "We've talked a couple times but it's not like we're friends like that. We talked last night after I got drafted. He said he's excited about me coming to Toronto. I think it's going to help me a lot.
"It's going to help me to have somebody who's from the same city as me and we had maybe not the same journey as me but kind of a similar path as me," Koloko said. "Just helping me through the rookie process, I think it's going to be really big for me and I think it's really going to help me."
Article content
Siakam's path right down to where it began is remarkably similar to Kaloko's. Both were late converts to basketball from the soccer fields of Cameroon, that region's first sporting love.
"I just fell in love with it the first time I went to a basketball court," Koloko said of his infatuation with the sport. "I played soccer my whole life, until I was 17. Where I'm from, soccer is the biggest sport, basketball is not big at all, so, the first time I went to play on a basketball court I was like, 'Yeah, I really like this sport,' but just coming from Cameroon, people don't really care about basketball.
"I was still playing soccer but, on the side, I was going to play basketball sometimes — once a week or once every two weeks. I just got taller, and I was like, man, I'm going to just stick with basketball, I feel like I can be pretty good with this sport. I just embraced the challenge and started working on my game and here I am today."
Article content
Koloko followed his sister to the U.S. landing in Los Angeles where his first U.S. high school happened to be Sierra Canyon. His arrival at the school coincided with the arrival of one Scottie Pippen Jr.
That fortuitous bit of timing brought Scottie Pippen Sr. into Kaloko's circle, and the relationship has continued from those high school days right through the draft preparation period and to today.
Pippen Sr. was there with advice for both his son and Koloko as the two went through the grind of the run-up to Thursday's draft night.
Pippen Jr. was not selected in the draft, but soon earlier Friday morning signed a two-way contract with the Los Angeles Lakers.
"He's been a big inspiration for me," Koloko said. "The legend he is, playing for the Chicago Bulls and one of the greatest players ever. Every time I've seen Scottie, he's just given me advice. During this draft process he was with us every day watching us workout and giving us advice and little tips."
Article content
Koloko is scheduled to join the Raptors in Las Vegas for summer league. Visa issues will prevent him from coming to Toronto until he officially signs his contract, but it's very clear from his words on Friday, he already feels very much a part of this Raptors' family.
QUICK HITS
Following the draft the Raptors reached an agreement with Rutgers standout Ron Harper Jr. on a two-way contract. GM Bobby Webster described it as one of the "coolest stories of the night." Turns out Raptors senior basketball advisor Wayne Embry drafted Ron Harper Sr. in 1986 when was general manager of the Cleveland Cavaliers. Webster called it a full-circle moment … Boise State's Abu Kigab will join the Raptors for NBA Summer League according to a report by @RookieScale.