Sports
Jaxsen Wiebe's OT goal, first junior hat trick, put Oil Kings back into contention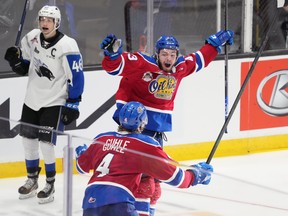 Article content
SAINT JOHN, N.B. — The WHL champion Edmonton Oil Kings are back in the mix at the 2022 Memorial Cup.
Article content
The Oil Kings pulled out a 4-3 overtime victory against the host Saint John Sea Dogs at Harbour Station arena Wednesday, to keep their championship hopes alive.
Jaxsen Wiebe scored the overtime winner at 8:05 to complete his hat-trick in the three-on-three format. With the win, the Oil Kings earned two points in the standings while the Sea Dogs were awarded one for the overtime loss.
Article content
"After a loss, your group has to come back harder and I thought we did that, it was a total group effort," Wiebe said. "Our guys came to battle and we got rewarded for it.
"It is special to score three goals, but our whole group came out tonight and I couldn't be prouder of our push back after (Tuesday's) game. We'll take this one and get ready for Hamilton."
Article content
The Oil Kings lost their opening game of the tournament to the Shawinigan Cataractes on Tuesday and were looking at being down to their last strike had they dropped the second of a back-to-back.
Wiebe, however, had the game of his life, which included a first-period fight against Sea Dogs forward Riley Bezeau.
Wiebe scored the overtime winner on a rush down the right wing, ripping a shot over the shoulder of Sea Dogs goaltender Nikolas Hurtubise. It was Wiebe's first ever junior hat-trick.
Carter Souch added the other for the Oil Kings and goaltender Sebastian Cossa made 36 saves.
"I think it started in the corner and Ghules (defenceman Kaiden Guhle) chipped it to me," Wiebe said. "There is lots of skating room in overtime and I thought I might as well get my own skate in there. I skated down the wing and I just pulled the trigger and fortunately it went in."
Article content
Just prior to the tournament, the CHL announced a new points system, awarding three for a regulation win, two for an overtime win and one for an overtime loss. They also introduced the new overtime format, which would be three-on-three until a winning goal was scored.
"I think it was a tremendous showcase for the CHL and for the Memorial Cup," said Sea Dogs head coach Gardiner MacDougall. "It was gut-wrenching for our team, because they worked so hard, but I thought there were a lot of positives.
"We knew they were going to come hard early and we went down 2-0 and we had the grit to come back, and I thought it was outstanding response to go up 3-2. Then when you get to three-on-three, that's a high-end three-on-three and both teams had tremendous opportunities. I thought both goalies made some unbelievable saves."
Article content
Raivis Kristians Ansons, Josh Lawrence and William Dufour scored for the Sea Dogs, while Hurtubise made 27 saves.
Wiebe opened the scoring just over two minutes into the game, swatting a puck in on a scramble in front of Hurtubise. Souch gave the Oil Kings a 2-0 lead just over two minutes later.
Oil Kings forward Justin Williams was able to beat his man on the outside and sent a backhand pass out in front to Souch, who swept it into the net. Souch finished with a goal and two assists.
"I think it was a really good team effort from everyone tonight," Souch said. "Jaxsen was awesome. That's his first junior hat-trick; I only have so he's tied with me, but it's pretty crazy that he got one in the Memorial Cup."
The Sea Dogs were able to battle back in the contest, pulling within a goal six minutes into the first period as the puck bounced to Ansons in front and he slid it through the pads of Cossa.
Article content
Saint John then tied it 25 seconds later as Lawrence was credited with the goal after it bounced in off the skate of Oil Kings defenceman Simon Kubicek in front.
Dufour put the Sea Dogs ahead 3-2 midway through the period when he snapped a shot in on the short side past Cossa.
"We had a rough start, but we were able to bounce back right away and that was good for our team," Dufour said. "We showed some character. We had some chances in overtime, I had a two-on-one and could have finished that game, but Cossa made a big save and that's why he was drafted in the first round in the NHL, he's a very good goalie."
The Oil Kings tied it 3-3, two minutes into the second period, as Wiebe scored on the power play. He was able to collect the puck after Souch had hit the goal post, cut to the net and lifted backhand in past Hurtubise.
Article content
Brendan Kuny came close to giving the Oil Kings the lead later in the period, but wired a shot off the goal post on a breakaway.
Things tightened up in the rest of the period after the frantic first 10 minutes of the contest.
In overtime the Oil Kings had the bulk of chances before Wiebe's game winner. Edmonton outshot Saint John 7-5 in overtime with three breakaways.
"I thought we had a really good start, and got through the first period and I liked our second," Oil Kings head coach Brad Lauer said. "I thought we got a little fatigued from playing last night, but I thought our guys did the right things at the right time. And I really liked our overtime, I thought we had a lot of chances and did a lot of good things."
Email: [email protected]
On Twitter: @DerekVanDiest