Sports
First-ballot hall of famers Ricky Ray, Chip Cox headline class of 2022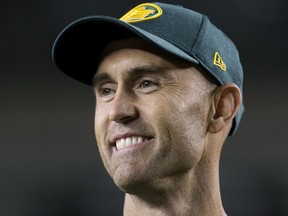 Article content
Roy Shivers' father always told him, when you get your foot in the door, take somebody with you.
Article content
Shivers, a former coach, player personnel director and most famously the first black general manager in the game, steps into the Canadian Football Hall of Fame today, and he's going in with more than a few somebodies: former players Ricky Ray and Chip Cox, both of whom are first-ballot entries, Paul McCallum, Tim Tindale and the late Dick Thornton, as well as builders Dave Ritchie and the late Keith Evans.
Article content
It is a diverse class of 2022, and that should also make Shivers proud. When he got the chance as general manager in Saskatchewan, he made it his mission to bring black coaches into the Canadian Football League.
"I think that was one of the biggest things when I went to Saskatchewan, I hired Danny (Barrett) and Richie Hall and those guys to become a part of the staff over there," Shivers said from his home in Henderson, Nevada. "I had always been under the illusion that coaching should be done by everybody and when I was coming up, I never had a black coach in my life, until I saw it working, until I started coaching. I always said when I got a chance I was going to give some other guys a chance. When I got the chance in Saskatchewan, that's what I did. I never understood why you couldn't have a diverse staff."
Article content
With four Grey Cups to his name, Ray headlines the player class of 2022. The calm, cool and collected QB broke in with Edmonton, was famously traded to Toronto in 2011 and led the Argos to a pair of Grey Cup wins there. His starry career ended abruptly because he couldn't stay healthy. That has actually given him peace in retirement.
"If I would have finished my career and still felt like I could do it physically, I probably would have a little bit more mixed feelings about that, but it was an easy decision for me. Once I got that last injury I knew I was done."
Ray isn't doing much more than hanging with the family these days, though he does compete in triathlons to stay healthy. He still thinks about coaching someday, but there is no urgency. For now, he's just marvelling at his luck.
Article content
"I just kind of look back on my career and think how lucky I was just to play with the two teams that I played with, all the great players and coaches and everybody who's kind of helped me get through my journey as a football player. I just feel so lucky. Why me? Sometimes I asked myself why me? Why was I so lucky to be a part of championship teams and now get the call to be in the hall of fame and have things go my way, and you know have some good luck throughout my career. I just feel so thankful."
Cox, who was a standout for 13 years with Montreal and won two Grey Cups, thanked the game for keeping him on the straight and narrow.
"That's what kept me out of trouble. I mean 100% that's what kept me out of trouble. Because if I didn't have sports, I would have been the kid doing a lot of things that he shouldn't be doing because I have nothing to lose, that was my mindset. I mean that would have been my mindset, but I never did anything too bad because I didn't want to lose football. I didn't want to lose my sports."
Article content
The call to the hall hit McCallum particularly hard, coming as it did on the birthdate of his late mother Catherine.
"It means a whole heck of a lot now," said McCallum, who kicked for Saskatchewan, B.C. and Ottawa over 24 seasons. "And because I've never really been one for personal rewards, so to speak, you know I've always done things, hoping that it would be beneficial to the team, so you know people have asked me all along why you're not in the Hall of Fame. You know that's up for other people to decide and I'm not really worried or concerned about it, but when I got the phone call I was sitting in the car and it kind of hit me and then it was you know so special in the fact that it was my mom's birthday. And then you know I just sit back, reflecting and looking into the people that are in the hall of fame and You know it's quite an honour to be considered, you know, in the same kind of level, as these other players. That being said, there's still a lot of good players that aren't in so it makes it that much more special."
Article content
Thornton was a two-way player over 12 seasons for Winnipeg and Toronto, suiting up as a defensive back and quarterback. Tindale played for his hometown Western Mustangs, twice won the Hec Crighton Trophy as college ball's top player in Canada, and went on to play 37 games for the Buffalo Bills of the National Football League.
Ritchie, who coached for 22 seasons, joins the hall after winning three Grey Cups, one as head coach in B.C. and two on the staff of the Winnipeg Blue Bombers. Evans founded the junior Calgary Colts in 1965, served as the GM, and was associated with the team for half a century.