Sports
Fired up Blue Jays sock it to White Sox to avoid series sweep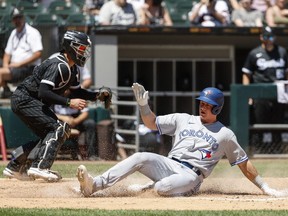 Article content
CHICAGO – It's not like hockey where a big early hit can set the tone for a game and release frustration from a lingering tough loss.
Article content
But mother bleeping an umpire from a disgruntled coach before first pitch? Why not?
Prior to Wednesday's 9-5 win over the White Sox, Blue Jays hitting coach Guillermo Martinez took one for the team – and a group of hitters still frustrated from a loss the previous night.
Martinez went to home plate under the guise of submitting the lineup card and instead gave the umpiring crew – and especially Tuesday's home plate ump Doug Eddings – an earful.
Article content
Martinez got tossed for his antics and anger but the fire-up Jays bats took over from there, with pent up anger unleashed in an impressive victory that would have been a legit blowout until a late rally by the Sox made things somewhat interesting. 
Riding a grand slam from Bo Bichette in the fourth, an inning after a solo shot from Alejandro Kirk got the fun started, the Jays avoided a sweep at the hands of the White Sox. The Bichette bomb was a thing of beauty, exiting at high speed just inside the left-field foul pole.
Article content
The prize: A night off in the Windy City before travelling by bus up the shores of Lake Michigan for a weekend series against the Milwaukee Brewers.
The power plays in Wednesday's matinee — which also included a massive two-run shot from Teoscar Hernandez in the seventh inning — were welcome, especially for a Jays team that had lost six of its previous eight to see its stranglehold on top spot in the AL wildcard race erode.
The Jays belted 13 hits in total, regaining the offensive form that had been on display in recent weeks.
It was also perfect timing for an outburst to support a pitching staff that was run through the wringer the previous night. The luxury of a big lead early on allowed manager Charlie Montoyo to get almost worry-free to the end.
Article content
As well, the Jays got just what they needed from starter Ross Stripling, who allowed five hits over six innings and only one run allowed. The right hander had five strikeouts while throwing a season-high 87 pitches.
Meanwhile, the umpiring of Eddings the previous night — which factored into a 7-6 loss in 12 innings — was truly horrendous, a source of endless frustration for the Jays.
It prompted an ejection of pitching coach Pete Walker on Tuesday night and had countless Jays players outraged. Martinez got things off his chest moments before first pitch and an inspired group of hitters responded their own way. 
SPRINGER SITS
After leaving Tuesday's game with what the team called forearm discomfort, centre fielder George Springer was held out of the lineup on Wednesday.
Article content
No official word on his return as the team was evaluating imaging taken on Springer's arm prior to Wednesday's game. In his place, Raimel Tapia started in centre.
AROUND THE BASES
The Jays could have made life far easier on themselves but instead let a 9-1 lead get much too close for comfort. It was a rough eighth inning for reliever Adam Cimber who allowed three runs across and exited with the bases loaded, just one out and the Sox within four runs. But Trent Thornton came in to induce a couple of outs to squelch the rally …  It was another big game for the darling of All-Star Game voting, catcher Alejandro Kirk. After an RBI single in the first, Kirk blasted his seventh homer of the season in the third … On Tuesday, Kirk flashed some of his defensive prowess, picking off Tim Anderson at first base in the fifth inning for his AL-leading third pickoff of the year … On Tuesday, the Jays were walked off for the fourth time this season and fell to 2-3 in extra innings. The 12-inning defeats were their longest game since May 202 … Kirk, the runaway leader in ASG voting for his position, is on track to become the fourth All-Star catcher in franchise history (Russel Martin – 2015, John Buck – 2010, Ernie Whitt – 1985.) … The Sox did manage to make Wednesday's contest interesting with a pair of runs in the eighth and then loading up the bases on reliever Adam Cimber
MVP VLAD?
Though he's yet to flash his top form, the Jays first baseman Vlad Guerrero Jr. nabbed his first AL player of the week of the season on Tuesday
Guerrero hit .407 on the week with three homers and seven RBI over seven games to capture the weekly honour for the fourth time in his career.
But what about MVP talk? It's considerably more muted than it was last year. In fact, sports book bodog.ca has Guerrero listed at odds of 25-1, the seventh choice. Aaron Judge, who is having a stellar season with the Yankees leads at minus-135 followed by Angels Mike Trout and Shohei Ohtani, each at 5-1.
Source link