Sports
Ex-tennis ace Boris Becker facing seven years in prison for fraud
He is slated to be sentenced on Friday.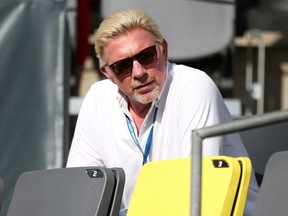 Article content
Tennis great Boris Becker has gone from one kind of court to quite another.
Article content
The 54-year-old three-time Wimbledon champion is facing seven years in a British prison after he was found guilty earlier this month of four charges under the U.K.'s Insolvency Act.
Becker — a German national — allegedly transferred $560,000 to different bank accounts, hid a property in Germany, failed to declare a $1.1-million loan, and did not declare shares in an IT company.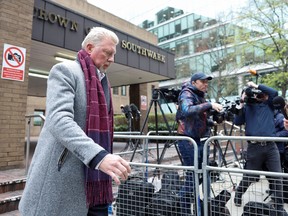 He was declared bankrupt in 2017 and is legally obligated to disclose all assets.
Now, the tennis great is facing seven years in prison. According to the Daily Mail, Becker looked teary-eyed at a farewell bash attended by friends and family. His girlfriend, Lilian de Carvalho Monteiro, hugged him strongly at Wednesday's goodbye after he spent "family time" with his estranged wife Lilly Becker and their son days earlier.
Article content
He is slated to be sentenced on Friday.
In addition to his freedom, Becker is at risk of losing TV contracts and his BBC tennis gig.
Earlier this month, his 86-year-old mother, Elvira, pleaded with a British judge not to send Becker to the slammer. She testified that he is "a decent boy overall. I hope my son doesn't have to go to prison."
Court heard how Becker blew through his $60-million tennis earnings as a result of a divorce from first wife, Barbara Becker, along with child support and "expensive lifestyle commitments." He said he was "shocked" and "embarrassed" by his bankruptcy.
He was eventually convicted of four counts of fraud. Becker was acquitted of 20 other charges.
At the time of his bankruptcy, his lawyer said the tennis ace was "too trusting" and "too reliant" on advisors.
@HunterTOSun
Source link