Sports
Don Mattingly's son busted after allegedly crashing SUV while drunk
He was arrested after trying to sell his damaged vehicle.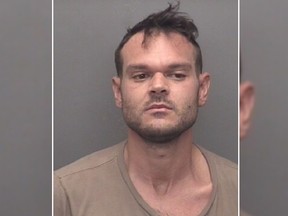 Article content
A son of Miami Marlins manager Don Mattingly is accused of driving a car while intoxicated, crashing the vehicle, and then trying to sell it.
Article content
According to the Evansville Courier & Press, 30-year-old Jordan William Mattingly was arrested Monday in Evansville, Ind., after cops say he crashed his Honda into a median and later drove the vehicle to a dealership where he tried to sell the wreck.
Authorities say the younger Mattingly blew .291, which is more than three times over the legal limit.
A witness stated Jordan was travelling 112 km/h in his silver Honda before slamming it into a medium, the Courier & Press said. An arrest report noted the driver appeared to be "super drunk" as he walked into a Honda dealership to sell his vehicle — which was missing a tire — and try to acquire a new one.
Jordan — who had swelling and scratches on his body at the dealership — was arrested. He reportedly told cops he only had "one drink" and the car damage was caused by a pothole days earlier.
Article content
WFIE reported Jordan later told authorities he had "a lot" to drink before putting the keys into his Honda but insisted he didn't hit anything while on route to the dealership.
Several people called 911 after seeing smoke billowing from Mattingly's vehicle.
Inspecting the SUV, cops reportedly found cans of alcoholic beverages Four Loko and White Claw. Jordan was transported to hospital before being transferred to jail. His bail was set at $1,500.
According to the Vanderburgh County Sheriff's Office, Jordan was charged with two counts of operating a vehicle while intoxicated and one count of public drunkenness.
Meanwhile, Jordan's brother Taylor, 37, is in Vanderburgh County Jail on domestic battery charges.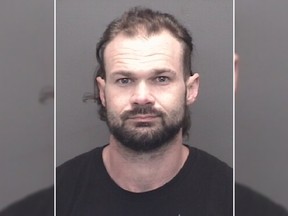 Source link