Argos to enter the Lions den in desperate need of an offensive burst
06/24/2022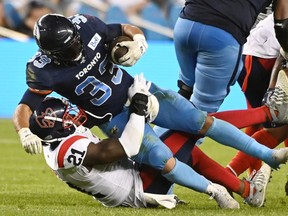 Article content
One game into a season and already the Argos find themselves at a crossroads.
Article content
In football, a win by any means or any point differential, is a win, but there was something alarming in the way the Argos managed to hang on by the thinnest of margins in escaping last week's season opener with a one-point victory over visiting Montreal.
Saturday night at BC Place, the Argos will play their first road game of the season against a Lions opponent reinvigorated by the presence of starting Canadian quarterback Nathan Rourke.
Article content
Offensively, Argos head coach Ryan Dinwiddie graded his unit with a C.
"Pretty average,'' said Dinwiddie when assessing the offence and its inability to finish drives.
Dating back to last fall's East final, Toronto's offence has scored one touchdown in eight quarters.
Defensively, the Argos forced a two-and-out on Montreal's opening drive last week, but no additional two-and-outs would ensue.
Article content
Corey Mace is in his first year as defensive coordinator and Toronto's staff is pretty inexperienced.
Poor tackling and fatigue would plague Toronto's defensive performance following that initial surge.
B.C. is coming off a bye week after its offence shot the lights out against a beleaguered Edmonton Elks team in the Lions season opener.
Saturday night begins a stretch of four successive games against Western opponents for the Argos.
When they return, the team will get a few days off before playing host to Winnipeg on a rare Monday night kickoff before playing Saskatchewan on successive weeks, including an Argos home game out East in Nova Scotia.
During the course of a month, the Argos will go from coast to coast under no illusion they'll be coasting to any wins.
Article content
What they must do is show improvement or some early season changes in personnel must be contemplated.
Dinwiddie, who wasn't at practice during the week of the Als game as he isolated following a positive COVID test, decided to slow the pace of practice this past week as the Argos were in the midst of their preparation for the Leos.
"We played faster,'' said Dinwiddie. "Those guys understand we have to take more steps, I have to do a better job of calling the plays and putting them (players) in the right position.
"This week will tell a lot. Are we going to take that next step and find a way to get better on offence? We've been decent, but not great."
No one is calling for a change at quarterback and the Argos remain McLeod Bethel-Thompson's team, but something has to change that allows the offence to score touchdowns rather than settling for field goals.
Article content
Chad Kelly isn't ready to take the reins.
He hasn't even taken a snap in a regular-season game.
One gets the feeling that day is around the corner, despite his lack of CFL knowledge, if the Argos can't finish on offence, a theme that surfaced last season.
Again, it's only one game into a season, but nothing has changed on the touchdown-producing front.
"We got to finish with touchdowns,'' stressed Dinwiddie. "That's our emphasis. We have to sustain drives, finish drives. We know that.
"We didn't finish a drive at the end of the game (last week) and put the defence on the field. If we finish that drive it doesn't come down to that field goal."
DEJON IS ON
Second-year receiver Dejon Brissett, who was taken second overall in the 2020 CFL draft, makes his season debut Saturday.
Article content
Brissett was having a great camp, but he hurt his hamstring.
"He's ready to go,'' said Dinwiddie of Brissett, who took a huge jump mid-way through his rookie season in 2021.
Dinwiddie thought Brissett practised with a different speed during Thursday's gathering.
The Argos flew to Vancouver late Thursday and held a team walkthrough Friday.
"I felt today (Friday) was our best day all year,'' said Dinwiddie. "Guys were just locked in. They understand this is a business trip. We're flying five hours for a reason and that's to win a football game.
"Guys understand we weren't at our best last week, we showed flashes, but we were nowhere near where we need to be. Those guys know that and I feel they're dialled in and we'll see tomorrow (Saturday)."
Article content
PIVOTAL MATCHUP
Henoc Muamba has seen them all during his distinguished run in the CFL.
When he sees Rourke on film, he sees a QB capable of managing an offence.
The key for Muamba and the Argos defence is to mix up their looks, try to negate the run game and feature tailback James Butler.
"We want to see how much he (Rourke) can read (defences),'' said Muamba. "We want to disguise things here and there. I want to see him sling that rock and see how well he'll do.
"We want to test him, see where he's at and make the adjustments during the game."
BANKS-BREAUX REUNION
Teammates in Hamilton where they couldn't get over the Grey Cup hump, Brandon Banks and Delvin Breaux, two future Hall of Famers, will be on opposite sides for the first time.
Breaux hasn't played since the 2019 Grey Cup.
"I'm happy to see him back on the field,'' said Banks of the shut-down corner. "He's one of my closest friends. When I'm not here in Canada, he and Jeremiah (Masoli) are the guys I keep in touch with the most.
"It's going to be exciting to compete against him because we know each other well. Obviously, as a competitor that brings the best out of you."